VIVA LE RESISTANCE!! WE WILL NOT GIVE IN!!
That magnificent bastard Jimmy is still holding my cat for ransom. Well, with the help of my accomplice Aquabebe, we paid a little visit to his workplace today and left a few souvenirs on his truck. We will not give in to his outrageous demands!!!

The sign on the front says:
You will NEVER get my $2 you kitty catnapper!
(and the price tag stuck at the bottom says $3.79)


My accomplice, Aquabebe and the sign on the back.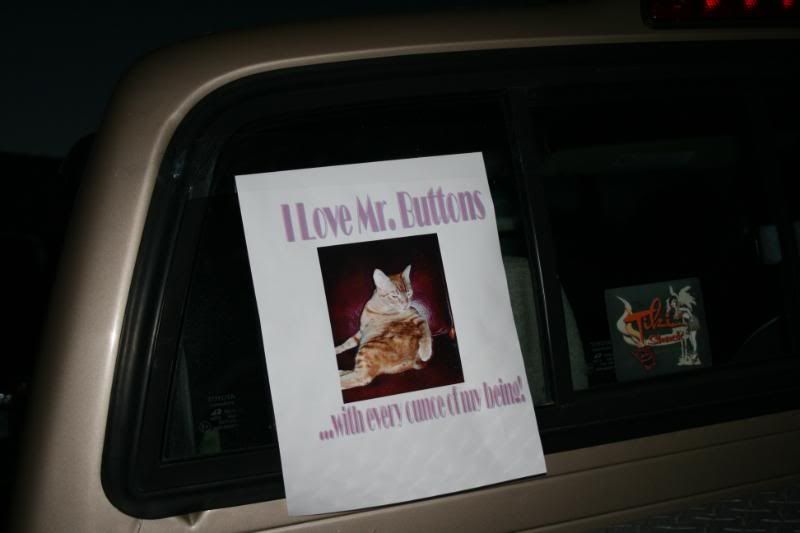 Sign on back: I love Mr Buttons ....with every ounce of my being.
haha revenge.
I guess I should expect retaliation soon from that evil fiend Jimmy.
I am not scared of you, mister!


Comments on myspace:


jimmy


My God woman, how did you talk her into wearing that? I hope you paid her well, even though it is cute. Buttons is as ugly as I'd expect a cat to be though.
And retaliation may come your way. But I am a lazy, lazy man. So who knows when it will be.
I'd give you three kudos if I knew that the power outage was part of your plan.

Posted by jimmy on March 20, 2008 - Thursday at 9:53 PM
[Remove] [Reply to this]



♥buttmuffin♥


We were both going to wear them, but they had feathers on them so I refused since I'm scared of feathers. But she was more than happy to wear it. You have to be properly disguised to play pranks, don't you know that?
Yes from now on, anything weird that happens to you, was all part of my plan.

Posted by ♥buttmuffin♥ on March 20, 2008 - Thursday at 9:55 PM
[Remove] [Reply to this]



Smokey


GOOOOOOD GOSH....Nice truck... If I get the Kitty back will you hotwire Jimmy's truck and get it to me? Don't say you don't know how to do it, I know where you went to school!!!!

Posted by Smokey on March 20, 2008 - Thursday at 10:25 PM
[Remove] [Reply to this]



Rhoda Whitehorse


I would like to compliment you on the quality of this blog Buttmuffin. 10/10 for effort and ingenuity.
Good camera shots. Good props and costumes.
I think you could be up for a blog award.
:-)

Posted by Rhoda Whitehorse on March 21, 2008 - Friday at 4:56 AM
[Remove] [Reply to this]



Jason AKA Phil


the lengths u and jimmy go to just to pretend u don't fancy eachother....... it would be so much easier and less time consuming just to indulge eachother...lol

Posted by Jason AKA Phil on March 21, 2008 - Friday at 7:08 AM
[Remove] [Reply to this]



♥buttmuffin♥


width, girth ...yeah whatever.

you mean long and thin? im so confused now.
I don't CARE at this point its been SEVEN months man!

Posted by ♥buttmuffin♥ on March 21, 2008 - Friday at 1:41 PM
[Remove] [Reply to this]



♥buttmuffin♥


Matthew if only we lived near each other, I'd be playing pranks on you day and night. And Sue would have to send her minions.

Posted by ♥buttmuffin♥ on March 21, 2008 - Friday at 9:41 AM
[Remove] [Reply to this]



Sue/Wrighty's Mum




If they make it as far as the States they will probably only have the energy to peck you lightly when they get to you....but that might actually be quite nice, he he..x

Cool blog, girl!!

Posted by Sue/Wrighty's Mum on March 22, 2008 - Saturday at 12:25 PM
[Remove] [Reply to this]



andrea


poor mr. butons. your accomplice looks so cute. not really evil at all. what a great disguise.

Posted by andrea on March 21, 2008 - Friday at 11:56 AM
[Remove] [Reply to this]